We are Wedding Professionals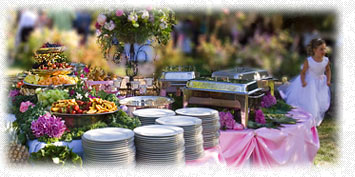 Our staff has many years of experience in all aspects of wedding and reception planning. From intimate plated dinners to lavish buffets, every detail is managed and designed to reflect your personal tastes. Our event planners will handle every detail and personally assist you in every aspect of your event planning.
For us a typical large wedding involves many hours of planning. When we finally come to the week of your wedding we plan a day for set-up and staff instruction, the actual event day — and a day for complete breakdown and cleanup. Along with your wedding event we can also provide services for rehearsal dinners, bridesmaids lunches, wedding day brunch, bridal party food and beverages while your attendants dress and photo are taken and post wedding day brunches.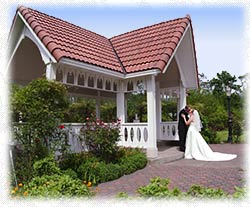 We can provide complete services at any location of your choice, but if you're still looking for the perfect spot for your wedding and reception may we suggest you consider the Eugene County Inn? It's our own facility and includes two large garden gazebos, 2 indoor halls, and ten acres of rose gardens accented with wending paths, water features, and spacious lawns. You can take a tour of it yourself online at http://eugenecountryinn.com/ .


All menus are created to meet your specific requests. Our team of classically trained chefs strive to develop menu items that highlight the freshest seasonal foods available in the Pacific Northwest. Our ability to customize menus for any occasion is the added touch that sets us apart. You can see examples on our site of menus ( in the Full Service section) but the selection we offer is limitless.


We are a fully licensed caterer able to provide any beverage service you wish - from a champagne toast, to a full bar, to a gourmet coffee buffet.

Our event designers and chefs will select platters, baskets, flowers, and creative decor to complete the look you choose for you reception.


We will he happy to arrange and set-up all rental items once you have decided on a location. We offer an extensive selection including: