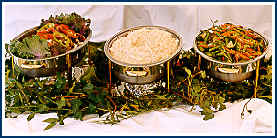 Served for fully staffed events
of 25 or more people.
Select as many entrees as you like
For two entree selections, the price is the
higher entree plus half of the additional entree. Ask us about seasonal specialties and custom-designed, or special theme menus!
Entree Price Range: $15.50-$42.50 per person
Please Call or E-Mail our Event Coordinator for ideas and price quotes.
CHICKEN ENTREES
All chicken entrees are boneless, skinless breasts.
SALADS SIDE DISHES HOME


Chicken Jerusalem in Creme Sauce with Artichoke Hearts & Mushrooms
Mandarin Chicken Grilled Breasts Marinated in Mandarin Spices
Caramelized Garlic Chicken (Slightly Sweet, Mild Garlic)
Sautéed Chicken with Dried Oregon Cranberries & Roasted Hazelnuts
Apple Almond Stuffed Chicken with Apple Chutney
Tequila Lime Chicken with Goat Cheese
BEEF ENTREES
SALADS SIDE DISHES HOME


Baron of Beef with Horseradish Sauce (served for 50 or more people)
Carved New York Strip with Peppercorn Sauce
Beef Stroganoff
Hearty Beef Burgundy
Teriyaki Sesame Beef
House Wood Smoked Prime Rib Au Jus with Horseradish Sauce
Carved Beef Tenderloin with Prawns in Garlic Butter
SEAFOOD ENTREES
SALADS SIDE DISHES HOME


Baked Pacific Salmon or Halibut with Dill Butter Sauce
Barbecued Pacific Salmon (seasonal)
Baked NW Salmon with Potato-Herb Crust
Indian Baked NW Salmon - Sweet and Smokey!
PASTA ENTREES
SALADS SIDE DISHES HOME


Baked White Chicken Lasagna
Baked Beef Lasagna
Baked Vegetarian Lasagna
Grilled Chicken Pasta Alfredo
Cheese Filled Manicotti with Marinara Sauce
Pasta Bar: Three Pasta Choices with Three Sauces.


Select from Meat or Mushroom Marinara, Chicken Alfredo, NW Seafood
Fresh NW Seafood Pasta: Penne Pasta Tossed with a Bounty of Seafood


and a Creamy White Sauce
PORK ENTREES
SALADS SIDE DISHES HOME


Herb Roasted Pork Loin with Apple Cider Gravy
Barbecue Pork Ribs (Baby Back Ribs Smoked over Hardwoods)
Tossed Crisp Greens with Dressings
Pasta Pesto Salad
Fresh Fruit (Salad Or Platter)
Japanese Spinach
Italian Spinach & Basil Leaves with Pine Nuts
Antipasto Salad
Seafood Salad (Greens, Veggies, & Oregon Seafood)
Waldorf
Thai Noodle With Chicken & Peanut Dressing
Summer Watermelon
Potato Salad (New or Old Fashioned)
Japanese Cucumber
Spinach Salad with Warm Bacon & Mushrooms
Crunchy Pea
Pasta with Marinated Vegetables
Cole Slaw
Roasted Green Bean & Potato Salad
Chinese Slaw
Marinated Fresh Vegetables
Caesar Salad
Italian Antipasto Green Salad
Italian Pasta
Oriental Noodle
Tortellini
Caprese Salad - Ripe Tomato, Fresh Mozzarella, Fresh Basil, and Virgin Olive Oil
Cravings Signature Salad - Crisp Greens, Dried Cranberries, Bleu Cheese, Crisp Apple,
and Sugared Pecans, Tossed in Cravings House Dressing
Broccoli & Cauliflower AuGratin
Roasted New Potatoes
Pasta Alfredo or with Butter, Garlic, & Herbs
Blended Wild Rice
Steamed Fresh Vegetables
Glazed Carrots
Roasted Garlic Mashed Potatoes and Gravy
Grilled Fresh Vegetables
Glazed Carrots w/Dried Cranberries
Lemon Basmati Rice
AuGratin Potatoes
Updated July 2005 © Cravings, Inc. All rights reserved.
- Web Designs by DIGITAL DREAMS