4100 County Farm Rd, Eugene OR 97408 (541) 343-7933 FAX: (541) 343-7783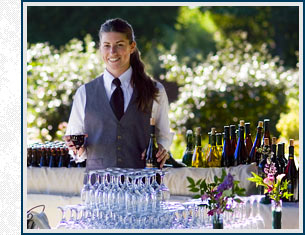 Selecting the wine or beer for your event is as important as selecting the menu. Our labels on wine and beer are always changing to keep pace with the market. We only serve cork finished wines, no box wines.
All Liquor, Beer, Soft Drinks are charged by the amount we serve at the event. If you are planning a very special dinner party or client party and wish to purchase wines by the case we are happy to shop our brokers for the best buys possible and offer case discounts.
Cravings is fully licensed and insured for you protection.
Our bartenders are trained and have OLCC certification.
ALCOHOLIC BEVERAGES

NON-ALCOHOLIC BEVERAGES

FULL COCKTAIL BAR
With premium liquors, including beer & wine
FULL COCKTAIL BAR
With house liquors including beer & wine
House brands beer & wine
House Champagne
Private Label Not Available at Retail Outlets
Domestic and Micro Brew Keg Beers
Pony Keg: Serves about 60 guests
Full Keg: Serves about 120 guests

Bottled Mineral Water
Snapple, and Juices
Soft Drink Bar
Sparkling Punch
Sparkling Cider
Canned Soda
Coffee & Tea Service
Updated July 2008 © Cravings, Inc. All rights reserved.
- Web Designs by DIGITAL DREAMS